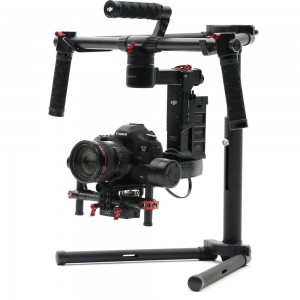 Hot off the heels of our article on Camera Sliders, here is another type of gear item that can add cinematic style to your videos: Handheld 3-Axis Gimbal Camera Stabilizers.
Gimbal stabilizers allow videographers to move the camera in any direction without any shaking or jittering.  In effect, the camera seems to fly or float around the screen. Although gimbals can work on a 2-axis or 3-axis system, we will focus on 3-axis gimbals in this article.

The three axis system refers to roll, pitch, and yaw.
Roll: Rotation around the front-to-back axis.
Pitch: Rotation around the side-to-side axis.
Yaw: Rotation around the vertical axis.
You can see these concepts clearly demonstrated in the airplane animation below.

This article focuses on handheld devices or  stabilizers are physically operated by a personal with their hands. This is in contrast to the 3-axis gimbal systems that you might find integrated into drones or other remotely-controlled devices.
By being able to hold the device in his or her hands, the videographer has significant control over camera movements – while drones may be hard to fly and control in tight spaces, handheld stabilizers easily navigate staircases, corridors, tight turns, and other tricky situations. You can use these kinds of camera stabilizers to "fly" or "float" around your event, factory, office building, or any other location.
Another advantage of gimbals over drones is that drones may require special licenses, permits – even trained drone pilots. With gimbals, you can avoid those issues altogether.
At Stark Crew, we often work with DJI Ronin handheld camera stabilizers. Check one out in the video below!

Interested in learning more about how a Handheld 3-Axis Gimbal Camera Stabilizer can be effectively used in your next video project? Contact us now for a free consultancy.