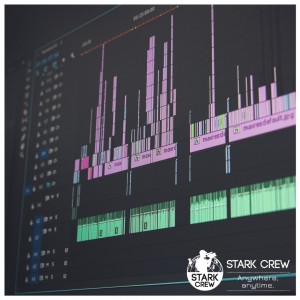 Jean-Jacques Rousseau said that "Patience is bitter, but its fruit is sweet." At Stark Crew, we can´t think of a sweeter payoff than a great video. But to make that great video, a tremendous amount of patience is needed during the post-production process. In this article, we will explain why.
Post-production is everything that happens after you have shot the footage. This includes but not limited to the following:
File Transfer & Organization: Footage is not sent directly from the camera to an editor´s computer. Usually, the footage is recorded onto a memory card which is then transferred to an external hard drive. This footage needs to be well-organized on the hard drive. Many people know what it is like to have a computer overrun with random folders and files on their computers – it can get out of control fast. A video editor, in contrast, must be extremely organized. With hours or days of footage, and possibly multiple cameras, the number of footage files on the hard drive can be daunting. For example, here is how one editor keeps his footage organized:

Average time on Stark Crew videos: 1 day.
Editing: One the footage is organized, the editor can then review the footage – which can take an enormous amount of time. Imagine shooting your week´s vacation non-stop and now you have to watch all of it, perhaps multiple times. Granted, a professional videographer should be thinking about editing while shooting, and thus be decisive and efficient with shots, but it it still common for the editor to get a ton of footage to review. Once the editor has reviewed, selected, and trimmed the best clips out of the raw footage, he or she begins to assemble them into a video.
Average time on Stark Crew videos: 1 week.
Effects: Usually, the items I am going to mention here are further separated into different categories, but for efficiency, I am going to bundle them all under the headline of "Effects."  In our definition, effects are anything that is added to the video to enhance the effect on the audience such as animations, graphics, subtitles or captions, music, color grading, or sound effects. All of these items individually take days or even weeks to create and implement.
Average time on Stark Crew videos: 1 – 2 weeks.
Rendering & Export.

Just take another look at all of those effects mentioned above – that's a lot of stuff! When you add an effect to footage in an editing software program, you are essentially coding the footage with new data. Rendering is the process of transforming that data into something you can actually see. It's similar to when you add effects to your Instagram photos – although those effects are rendered much, much faster. At Stark crew, we do a lot of work with rendering transitions, titles, animations, and motion graphics. So you can see what this actually looks like, check out how this editor adds a simple graphic title to his video:

For people to watch this video outside of a video editing software program, it will need to be exported into a single video file, such as an .mp4 or other video files you may already be familiar with. And in order for you to view any of the effects added to the video when it was edited, the effects must first be rendered or implemented into the video itself. Again, this is just like when you put an effect on your Instagram photos. But in the world of high-resolution video and custom effects, rendering and export take much longer.
Average time on Stark Crew videos up to 1 day.
Feedback and Revisions: Believe it or not, one of the most time-consuming parts of the post-production process is the client's responsibility. Many times our editors are waiting for feedback from the client in order to modify the draft video and keep moving forward toward the goal: the final video. These things slow this part of the process down:
            The client does not compile all of the changes they want into one document. This means we are re-editing a video draft that is without a doubt going to have additional changes. Each additional change adds extra days to the process.
            There are multiple project stakeholders on the client side who give contradictory instructions.
SOLUTION: In order to solve these problems with the goal of increasing speed, at Stark Crew we ask that all client feedback is given in an online video draft review software. We currently use www.lookat.io. Inside of this platform, all project stakeholders can consolidate all of their comments onto video drafts in one single place and discuss instructions so there are no contradictions.
The more detailed and comprehensive instructions that are given, the faster the final video will be delivered. Keep in mind that every single modification of the video takes us back to step #4 and we have seen weeks – even months – added to a project's timeline because certain key customer stakeholders were travelling or on vacation when their feedback was needed, comments coming in very late in the game, or wasted versions created when trying to implement confusing or contradictory instructions.
Average time on Stark Crew videos: up to 2 weeks.
6) Distribution & Sharing. Once the final video is made, various exports may be needed to generate different types of video files optimized for online and/or offline viewing. Exporting also takes time and we want to make sure we are exporting for the correct distribution channels, whether it's a giant TV screen at an event venue, or for distribution on Youtube.
Average time on Stark Crew videos: up to 1 day.
HOW TO MAKE POST-PRODUCTION RUN SMOOTHLY & EFFICIENTLY
You can avoid a lot of stress by following the following 3 tips:
Provide comprehensive and detailed initial instructions and feedback to the video editors from all project stakeholders in a timely fashion.
Provide all logos and other brand book graphics that the editors will need before the editing begins.
If possible, allow plenty of time for editing according to our suggested times above.
Would you like more information about the post-production process? Contact us now for a free consultancy.