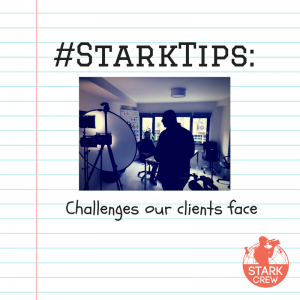 Stark Crew has launched a series of behind the scenes information articles and this first series is based on  "How to make great event videos." Whether you are shooting a convention, seminar, workshop, or launch party, event videos are some of the most challenging – exciting – videos you can make.  Of course, a great video is built upon great foundations.
INSIDER TIP #4 – Pre-production
Pre-production is a term used in filmmaking which refers to all of the work that is done before shooting begins. In this context of an event video, there are several key details that need to be addressed for the shoot to be a success. Pre-production planning should strive to identify and resolve as of these issues as soon as possible.
OUR VENUE CONTACT
A video has many project stakeholders or collaborators: the video provider, the customer, the interviewees, and in the case of an event video, the on-site or venue contact. This may be someone who works directly for our customer, or is employed by the venue itself.  Essentially, this is the person that receives our video crew when they arrive at the venue on the shoot day and helps them during the event. In a best-case scenario, this person is generous with his or her time, giving our crew a tour of the venue and assisting us as needed.
Here are a few examples of situations in which we´ve needed generous access to a local contact:
getting parking passes / special access
getting accreditations
finding electrical outlets, liaison with venues electrical crew
gaining access to certain rooms
blocking off spaces for us to store gear
blocking off spaces for us to shoot interviews or b-roll (additional imagery)
smoothing over security or other venue employees who interrupt our shooting or block access
asking other venue employees to quiet down, turn off phones, while we shoot
encouraging venue staff collaboration by explaining to others what we are doing and why
providing updated program schedule and any improvised ideas on things to shoot
helping to source people for interviewees if he or she has relationships with possible interviewees
liaison with the venue´s in-house audio or video crews, as needed

Our customer should introduce us to our on-site or venue contact as soon as possible so we can gauge this person´s collaborativeness. Frankly, some venue contacts are not generous with their time. If we know beforehand that a contact is unhelpful, that he or she is basically going to open the door for us and then disappear for the rest of the event, then we can plan accordingly.  In this case, we will be sure to take a minimum of one dedicated producer, perhaps two producers, and several production assistants to make sure we can overcome any obstacles that might occur by having as many hands on deck as possible.
Luckily, most venue contacts are generous with their time and assist our crews with anything and everything as the event progresses. In our experience, when our venue contact is the direct employee of our customer,  and has been assigned exclusively to assist our crew, things go much more smoothly. That is really the ideal situation.
In other cases, when our venue contact works for the venue itself or some other project stakeholder, he or she may be assisting many different groups simultaneously, and thus is understandably unable to be very generous with time.
We can usually ascertain what the situation will be via e-mail, phone, and Skype calls well before the event. We will discuss with our venue contact exactly how much help he or she will be able to provide during the duration of the event. The key here is knowing what to expect and then strategizing to succeed in any situation.
SCOUTING
If possible, our venue contact should give a Stark Crew producer and/or director a guided visit of the venue days before the event. By scouting the event beforehand, our team can gauge the scale and layout of the space in which we will be working. We´ll be able to pre-select our preferred shooting locations, camera angles, and navigation strategy around the event activities. We can shoot test samples and strategize for our electrical, lighting, and audio solutions. We may even take advantage of the scout day in order to shoot establishing shots of the venue which can be cut into the final video later on.
VENUE ACCESS: PARKING & ACCREDITATION
If our venue contact is unable to process our venue access, then our Stark Crew producers need to work on this as soon a possible. Video gear is heavy and clunky, and we need to be able to enter the venue and park essentially right at the door. We also need the vehicle to be nearby as it often holds our backup batteries and other backup devices, should we need them quickly. Similarly, if our venue contact is unable to expedite our event accreditation, then we need to plan for the often long process of waiting in lines to get our accreditation. Hours can be lost at the beginning of a shoot due to the logistics of parking and accreditations, and thus a strategy needs to be set well before the event day.
SCHEDULE   
Stark Crew should be provided with a printed event schedule, and our local venue contact should contact us immediately during the event if there have been any last minute changes to this schedule.
SHOT LIST
Customers should provide us with a shot list, even if it is very high level, of essential shots they want to include in the final video. For example, do you want shots of signage or logos? Specific demos taking place? If a customer isn´t sure about what specific shots they want, they can at least give us an idea of the type of shots they want by sending us different samples they like from Youtube, for example.
INTERVIEWEE QUESTIONS
We should also be provided with a full list of interviewees (which can be included in the schedule)  and interview questions for them.
IDEAL ANSWERS
Even though we cannot control how an interviewee answers a question, it is helpful for our customers to write out for us the ideal answer that they would like to get from an interviewee. Writing out your fictional "dream response" will help us to make sure that we don´t miss anything and can keep questioning the interviewee until all of the desired topics have been covered. This works very well when you are looking for testimonials related to products, experiences, or other success stories.
It may not seem like a lot, but having a helpful local venue contact, easy accreditation and parking access, a location scouting day, a schedule, a shot list, final interview questions, and ideal interview answers, are all details that can be arranged well in advance of the shoot day – and they should be. As they say, the devil is in the details! If we can flush out all of these details well in advance, we´ve won half the battle for a successful shoot.